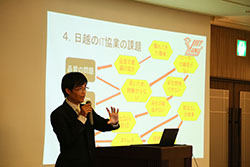 At the small IT conference that Brain-works company is organizing on the afternoon of August 24 (Wednesday), director Trieu will speak about "The current status of information technology applications in Vietnam". If your company is interested, please register to attend.
For the content of this small seminar, please see the attached file attached files
Director Trieu will participate in the discussion with the following general content.
Nowadays, IT is an indispensable competitive weapon.
Which IT projects are cheap, which IT projects are expensive?
Details of an IT example: CRM software
Japan's current IT – Previewing Vietnam's IT future.
Some of the most basic Information Technology security issues.
Thank you very much.