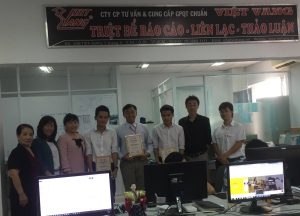 In the past time, we have cooperated with Ho Chi Minh City University of Technology and Education to accept students to practice at the Company. Training program with 2 main contents "Japanese in IT" and "Skills of working people", we emphasize practicality, directing students to real study, practice, learn as well as apply the knowledge learned into practice. The training course took place from December 6, 2016 – January 20, 2017.

Train students according to a certain process, assign, guide and monitor the progress of completing work specifically (please see attached flie) and specific steps from Ideation, design, Programming to develop software under the guidance of programming engineers with many years of work experience. (Please see attached file)
Every day they write reports in Japanese, and that also helps them practice Japanese as well as practice the independent and self-managing style of working people.
At the end of the training course, we organized a presentation and issued a certificate of completion of the training course to the students, with the participation of lecturers from Ho Chi Minh City University of Technical Education. Through the report and presentation, the students also expressed, "The program helps us understand a lot about behavior and how to work in practice."
Through activities like this, we aim to contribute to society, and even our staff learn a lot from the process of instructing the children.