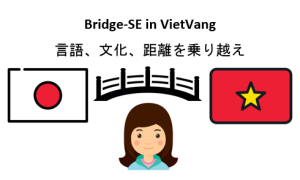 Viet Vang Information Technology Company specializes in implementing information technology projects with Japanese customers, from simple projects to complex projects, requiring detailed confirmation exchange with customers (by email, voice). chat (skype), documents,…).
We are looking for young people who are passionate about translation/interpretation work in the IT field, confident (or eager) to communicate with many Japanese customers with different personalities, working in various fields. different areas, helping companies overcome language, cultural and distance barriers.
1. Work content
Talk to Japanese customers to understand the IT system that customers require, synthesize it into documents and discuss with engineers in the company..

Talk to engineers in the company to ask questions and make suggestions for Japanese customers.
2. Condition
A person who is

passionate about work

and

wants to be a member of a team that is passionate about work

Being a Japanese person who knows Vietnamese or a Vietnamese person who knows Japanese.

Know a little about IT and can work full time

8 hours/day, 5 days/week

.
3. Treatment
Be trained in languages (Vietnamese for Japanese, Japanese for Vietnamese) to the point of being able to use them well at work.

Be trained in working culture from the smallest tasks such as Excel and Word page layouts, to knowledge such as Human Resource Management, Project Management, Risk Management, and be able to be independent in the future (open a new job). ty okay).

Fully paid health, social and unemployment insurance. Get paid overtime fairly

as agreed upon when joining the company.

You are allowed to go on business trips abroad if your communication skills meet the requirements.
4. Working conditions:
Location: 3rd Floor, Building No. 7 – 9 – 11 Tran Xuan Hoa, Ward 7, District 5, Ho Chi Minh City.
Time: 8:30 – 17:30, Monday to Friday.


During urgent projects, you may have to work overtime or work on Saturdays (with overtime pay).
5. Wage agreement
6. Application deadline: until the end of the day

15/11/2017
7. Contact:
CONTACT INFO
VIET VANG STANDARD MANAGEMENT SOLUTIONS AND CONSULTING JOINT STOCK COMPANY